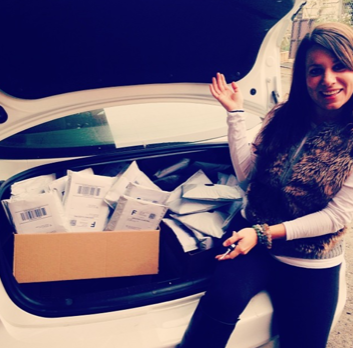 On November 11, 2011, (11-11-11--weird, huh?!)  this little shop went live on the internet. Seven years ago, I had less than zero clue what I was doing running a business.  All I knew was that I had a call on my heart to create something that allowed the people around me love one another better.
While that still remains at the heart of what Compliment is about, SO MUCH LIFE has happened in the last 7 years. As my life has changed, Compliment has evolved.  Many of you have been on this journey alongside me since the beginning. Many of you have been relentless cheerleaders, encouraging this dream, and speaking life over me and this business, so we could keep fueled up to go out and do the same in the world.  
Here's a very special look back:
2011: We launched just in time for the holidays.  It was just me and a couple of really nice girlfriends I called in for extra help, sitting around my dining room table, making wire-wrapped rings with sweet messages inside the boxes.
2012: Whew.  This year.  It was a hard one.  I got divorced.  I lost too many people in my family.  I moved teaching positions to a new school.  I moved to a new home.  Compliment was fledgling.  This year we gave out our first scholarships-- 2 totally $250/each.
2013: I doubled down.  I knew this precious little company-that-could had big heart and that if just the right people knew about it, it might be able to fly.  Later this year, we had big BIG growth.  I left the classroom to pursue Compliment full time.  I moved operations into a studio space and off my dining room table.  We were able to give two $350 scholarships this year.
2014: Our product line and team expanded.  Our scholarship grew and I started teaching other people how to spread their messages of goodness on Instagram.    Oh, and I fell in love again. :) This year, we gave 2 more scholarship-- this time each worth $750!
2015: We shipped out thousands and thousands of gifts this year.  Our scholarship grew to $3000 total given away, benefitting 3 more girls in our community.  And I married my soul mate, love of my life, Nick.  
2016: Compliment had another really big growth year.  We sponsored a few events, partnered with amazing organizations, shops, and  I was asked to keynote some pretty big conferences for other creatives.  Word continued to spread.  And we awarded two amazing girls with $1500 each!
2017: Oh my goodness.  I became a mom.  After years and years and years of praying and waiting and hoping.  Having a baby in early 2017 changed literally EVERYTHING about my life, the way I spend my time, and of course, how I had to restructure things at Compliment.  Going at breakneck speed wasn't working anymore.  Miraculously, this little company rallied, and stayed the course, 100% because of the amazing humans I call my family and friends who kept it going when I was on maternity leave.  And then-- 4 months later, BOOM.  I got pregnant again.
2018:  We welcomed our second son into the world!  Two babies 13 months apart, keeps us very, very busy.  The only reason you're even reading this right now is that, again, my team of the most incredible humans you could ever know, propelled this business forward.  My team not only helps in the office but also helps watch the babies as I work.  Our parents, grandparents, sisters, brothers, friends, and colleagues have all infused this company with energy when I didn't have it and made sure it kept going. 
This has been our biggest year yet, full of tremendous gratitude and even more grace.
Of course, I can't sign off without reminding you how grateful I am for the space you allow me in your inbox.  I'm grateful for your enthusiasm for kindness and grace and forgiveness and integrity and your heart for making this world a better place through our simple, everyday acts of kindness.
RIGHT NOW... I'd love for you to think of someone special in your life who could use a bit of extra encouragement (an old friend facing a challenge?  Your daughter handling a breakup with grace? Your sister who is a new mom?)
What do you want to tell them?
How can you help them see what you see in them?
If you'd like to send them a little surprise in the mail-- an unexpected gift to lighten their heart and brighten their day, I'd love to help you.  Please take 25% off now through Wednesday, Nov 14, any order over $30 with code YEAR7.
Plus we are throwing in free shipping on orders over $40 (after discount).
Again, thank you thank you thank you for being you and loving the ones around you.
INTERESTED IN READING MORE BIRTHDAY POSTS?
Read about Our 6th birthday, here.
Read about Our 5th birthday , here.