intimately knowing your ideal customer is the key to all of your marketing efforts.
stop wasting your time.
you've got to get in her head as soon as possible.
In Her Head is a self-study program, created to walk you through the process of finding your brand's ideal client/customer.


Until you have a clear sense of who that person is, you'll be spinning your wheels in all your marketing efforts-- from social media posts and captions, to networking events, to blogging and newsletters, and even your branding.


Knowing the inner psychology of your ideal client will help you move forward in your business so you reach more people, sell more of your goods/services, and make a greater impact on the world, because FINALLY, you'll know who you'll be serving.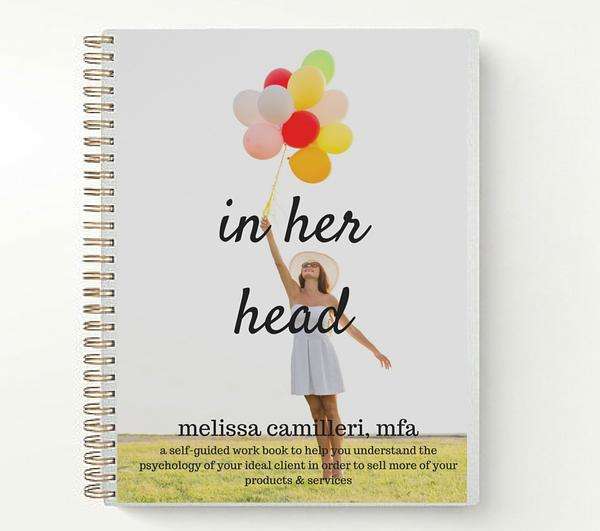 I wrote this self study because I saw how much my clients were struggling with this very important step in building their brands.


As a writing instructor, I've spent more than a decade helping students develop characters in their fiction. When I started building Compliment, I realized this process of arriving at your ideal client profile is not all that different from the writing exercises I developed for my students year after year in the classroom.


In Her Head:


:: is a self-guided program for creative business owners who want to sell more products/services


:: contains 10 printable lessons + 2 bonus activities to spark reflection and creativity


:: will help you understand, once and for all, who you are serving and how to appeal to her in a way that makes your products and services not only desirable, but NECESSARY


:: is structured in a way where each lesson builds upon the next, utilizing research-based adult learning psychology


:: honors proven adult learning modalities (fancy brain science) so that you are pushed to take inspired action


:: is the ultimate foundation of your business. If you sell anything, this book will help you do more of that