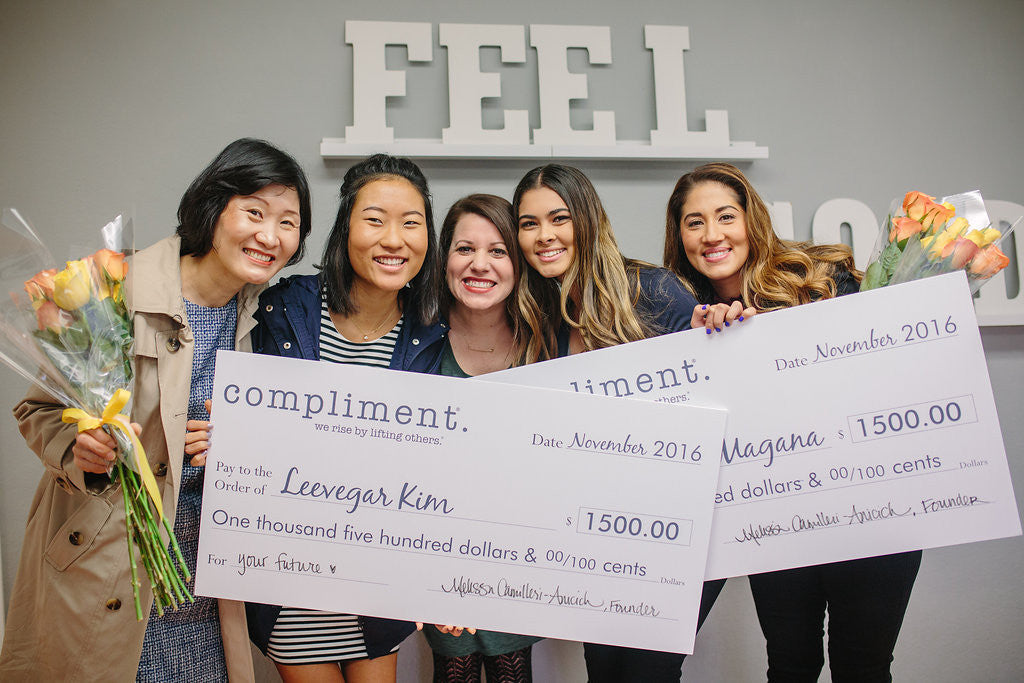 Last Saturday was my favorite day of the whole year here at Compliment.  Not only was it Small Business, Saturday, but (as you'll know if you're following us on Instagram) we awarded two more very deserving young women with college scholarships.

This year we had more applicants than we've ever had, which of course made the decision about how we were going to narrow the field to just two girls especially difficult.
We are so proud to announce these two beautiful #smartgirls,  Leevegar Kim and Sienna Meli-Magana, to our Compliment Family.
Compliment Scholarship 2016 from Compliment on Vimeo.

It's because of you that we are able to make these gifts possible for these girls and other #smartgirls that come after them.

Why is this cause so important to me?

I'm a first-generation college graduate. 

Education was always a very important value in my family, but even with their support, navigating my way toward my dreams was full of huge uncertainties.  

I am lucky.  I was given a chance and the access to opportunities and worked hard to be able to do the things in my life I've wanted to do.
Believe it or not, here in the US, a very large opportunity, access, and achievement gap exists between the haves and the have-nots.  

Compliment, as you know, was founded when I became more aware of this gap during my time as a high school AVID teacher and closing those gaps continue to fuel us every single day.


Every action Team Compliment takes is in line with what we believe and who we want to be in this world:
We believe that every one of us deserves to be fully seen, that our talents and gifts must be recognized and nurtured, and that if a young woman works hard, she deserves access to opportunities.

Regardless of her story.  


Regardless of where she comes from.
We believe all our dreams are valid.  And so in every piece of jewelry we make and send from our workshop in Sacramento, in every heartfelt, personalized compliment we stamp out, or gift we wrap, we are operating for a larger cause.  
We are women for women--encouraging kindness to those who come after us and opening whatever doors of opportunity we can for our sisters.  We cheer one another on and believe we truly rise by lifting others.
The educational equity problems with we face in the United States are vast, systemic, and bigger than any one of us on our own can solve.  But together, we can get closer to the goal:  letting girls learn.
 
We can start by making a difference in one person's life.  And then another, and then another.

Like Archbishop Desmond Tutu says, "Do your little bit of good where you are; it is those little bits of good put all together that overwhelm the world."

Thank you for supporting our mission, for cheering on our girls, for believe in service, and for doing your part to build our kids, our community and our future.
 
So thank you for shopping where your dollars make a difference.  

Together, we are making an impact-- with each gift you send to uplift someone's spirits-- one #smartgirl at a time.