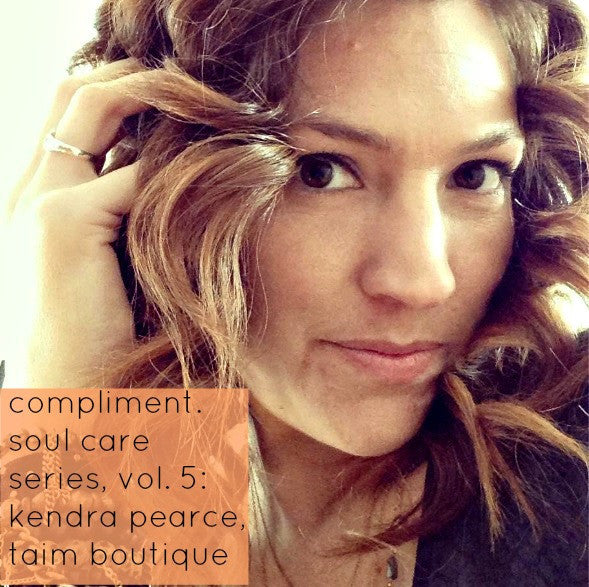 Compliment Soul Care Series Vol. 5
Meet Kendra Pearce of Taim Boutique
Ah, the power of social media.  Kendra Pearce and I first met via Instagram, of all things.  She liked my pictures, I liked her pictures, and bam.  We became pals.  So 21st century.  What's amazing is that even through the ethers, I found that Kendra's philosophies and my own were very much in sync.  She is the shop owner and stylist at Taim Boutique in Laguna Beach, California. I had the pleasure, just a few weeks ago, to finally make the trek down the coast to visit the little-renovated beach house-turned-boutique.  It's stunning.



When Kendra and I first talked, we realized just how perfectly our brands aligned. "Taim," in Gaelic, means "I am."  In each of our Compliment boxes, we include a compliment that typically starts with "you are." Awesome.  
At Taim, Kendra's mission is to "make women feel confident and beautiful by helping them discover and refine their style."  This week, I'm honored to have her here, offering up her Soul Care tips, which include spoiling yourself (!) plus lots more...

Kendra, you have an incredible sense of style and a heart of gold. Thank you for being such a support and being such a pleasure to work with. You are lovely inside and out.
The Interview...
Compliment: Tell us about yourself.
Kendra Pearce:  I'm the owner/stylist at Taim Boutique. Being a small business owner, I wear all hats from manager, buyer, visual merchandiser, bookkeeper, inventory control and management, to sales person and personal stylist.
Compliment: Give yourself a compliment.
KP: I am enough. I have to constantly remind myself of this because I tend to strive for perfect, but perfect doesn't exist, I am enough just as I am. 
Compliment: Give a compliment to a woman in your life who does not know you're being interviewed.
KP: I love my mom to death, but this compliment is going out to my friend Jenny. She is an incredible woman, wife, mother, and business woman. Without her love, support, and encouragement I wouldn't be where I am today. Through her I have learned not only how to run a business, but also how to be a complete person.
Compliment: What inspires you?
KP: Nature! I love the ocean, colorful flowers, taking hikes, listening to the rain, and watching the clouds and sky at sunset. It's so important to take time to smell the roses, literally.
Compliment: How do you care for your soul?
KP: To be honest, I'm working on this one. I'm good at spoiling others and rarely take time to spoil myself. But this year I have started taking time for myself. I found getting out of town is the easiest way for me to do that. Whether it's driving up the California coast, jetting off to New York for a week, or traveling to Ireland with family, getting away makes it easier for me to focus on me.
Compliment: What three soul-care tips can you provide to readers?
KP: 1. Learn to say yes. Open yourself up to new opportunities. Sometimes the scariest or hardest things turn out to be the best things. 2. Learn to say no. Don't push yourself, only do what is good and right for you. 3. Travel by yourself. There is something so calming about not having agendas or company. Everything you do is on your timeline and because you want to do it. 
To Learn More About Taim Boutique..
(photo by nook & sea)