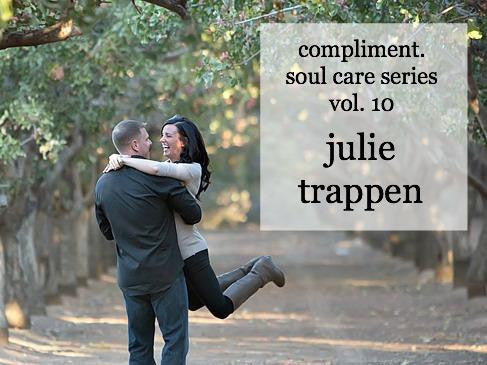 My favorite posts each month are these from our Soul Care Series.  I love meeting new friends and introducing them to old friends, building a community of savvy, giving, loving women doing wonderful things.  
This month is no different.  This month, I'm excited to introduce you to Julie Trappen, aka @teacherfashionista.  I have a special place in my heart for my fellow teachers (duh!) and am often inspired by the posts on her social medias.  She has a heart for kids and service and kindness.  You can read our interview, below.
Compliment: Tell us about yourself:
Julie:  My name is Julie Trappen. I'm native to Southern Minnesota, but I have lived in the heat and sunshine of Phoenix, Arizona for 4 years now. Eric stole my heart when we met in Austin, Texas 5 years ago, and we just celebrated three years of marriage on September 3rd! I am a kindergarten teacher and just started my seventh year in this profession.
Compliment: Give yourself a compliment.
Julie: I look for the good in everyone, and have a big heart.
Compliment: Give a compliment to a woman in your life who doesn't know you're being interviewed.
Julie: I would love to give a compliment to my Mom: Mom, you were so brave to raise 4 children on your own after dad passed away. You have the strongest faith, sweetest personality, the kindest heart, and the most giving hands. I would love to be told that I am just like you.
Compliment: What inspires you?
Julie: A new day. It starts with the beauty of a sunrise, and brings a fresh, empty palette. Anything is possible!
Compliment: How do you care for your soul?
Julie: It comes from my favorite verse: Rejoice. Pray. Give thanks. (I Thess. 5:16-18)
Compliment: What three soul-care tips can you provide to our readers?
Julie:
1. Listen to Music: Find some music that sooths your soul and builds your faith. It is amazing how the words can lift you up and encourage you throughout the day.
2. Prioritize your Life: Remember what matters the most to you at the end of each day. Did you take time for those people, things, goals, etc? I always feel happier and more fulfilled each day when I make time for what is the most important in my life.
3. Spread the Love: Be positive. Pay it forward. Share a smile. Help a stranger. Give a hug. Take time to laugh. Send mail out of the blue. Make a phone call. Lend a hand. Pray for another.
To learn more about Julie and see pics of her classroom and her adorable fashionista style, visit her on instagram at @teacherfashionista
In case you missed it...check out Vol 9. of the Compliment Soul Care Series where we feature Ro Middleton of Urban Philosophy and Twentyeightvia!