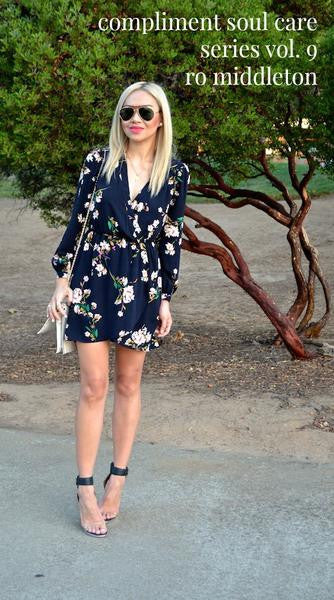 Compliment:
Tell us a little about yourself.Ro Middleton:
Hello! My name is Rowena Middleton. I moved to Sacramento years ago from Southern California. I am happily married and can't wait for babies and our own English Bulldog. I am Creative Director/ Owner of
Urban Philosophy
, a clothing boutique online that carry trendy woman apparel and accessories. I am also the owner and editor of the fashion blog
Twentyeightvia
where I share more of my personal style and tidbits of my life. I have a lot of roles and hats I wear. Aside from being a wife, I'm also responsible for buying merchandise for the store, styling, managing, website maintenance, visual editing & styling, marketing, sales, customer service and all other tasks all the way to order processing.
C: Give yourself a compliment.RM:
Boy, I do not do this often and I should start doing it more. If I were to give myself a compliment I would say, "Ro you are special. Your creativity, strength, perseverance and passion shines light to others. Stop and smell the roses from time to time and celebrate accomplishments and the good that you do." 
C: Give a compliment to a woman in your life who doesn't know you're being interviewed.RM:
I am giving a compliment to my mom. Mom, I admire your strength, courage and you have a such a big heart. I wouldn't be the person that I am right now if it wasn't for you.
C: What inspires you?RM:
A lot of things inspire me. I draw inspiration literally from everywhere. Mainly history, food, culture, colors, design, people and books.

C: How do you care for your soul?
RM: I love and enjoy my quiet time. I read and do things that I love. I always make time and make traveling a priority.  I have carefully created my spaces at home to where I love every room and inch of it. I've created my little slice of heaven to where when I am home I am able to shut off the outside world.

C: What three soul-care tips would you like to share with readers?
RM:
1. Always have a quiet time to yourself. Treat yourself with that time because you deserve it. Do something you love and enjoy. It be 15 minutes everyday to 1 day a week. Never let a week go by without having one.
2. Travel. To discover, experience and learn so many new things is SO good for the soul.
3. Design your space to help keep you inspired. Especially the spaces you use all the time. Whether it be your bedroom, your office, or family room, design and decorate your space with the things you love. Spaces affect our moods. Make your space conducive to its purpose. If it's your bedroom, paint the walls some calming colors so it helps you relax and get a good night's rest. If it's your office, make sure you have proper furniture and storage. Maybe add some beautiful fresh flowers on your desk. You might have to invest a little time and money but it's so worth it. Get rid of clutter so you can stay focused. It will help keep everything flow better, help put you in a great mood and have that positive energy and you can stay inspired every day.


Visit Twentyeightvia online here
---------------------------------------------------
About the Compliment Soul-Care Series
Compliment's mission is to help women feel beautiful on the outside (with lovely, hand-crafted jewelry) AND on the inside (through words of affirmation.) We women have a tendency to compete, compare, and believe in scarcity (as in, "if you get yours, there's not enough for me." Think about it-- youth, slimness, money, men, success.)

We say that's BS. Instead, we want to work together and believe in abundance: that there is enough love and joy for all of us. How do we spread that? By loving others, of course.

But that's impossible if we are on empty.

That's where the Compliment Soul-Care Series comes in. Once a month you will receive in your email a little inspiration on how other women, just like you, who are doing wonderful things for this world, are taking care of their own souls.

The hope is that you might put some of these ideas into practice for yourself, that we all grow together, and that we experience the true joy by edifying and building up one another. Enjoy!