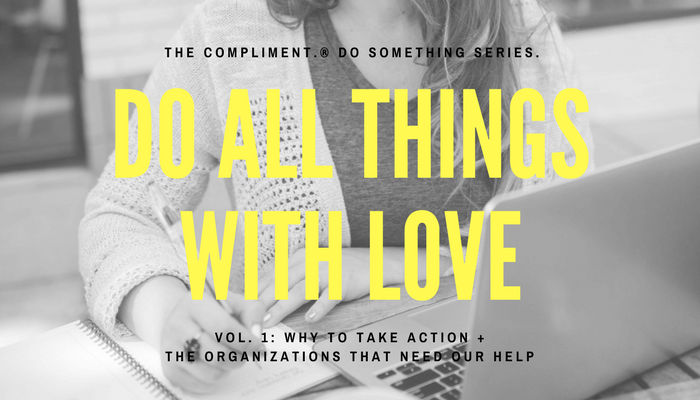 "What can I do?"
"How can I make an impact?"
"I'm only one person."
Listen to me.  (Or at least to Margaret Mead...) 
I, too, am doing my best to stay informed, while not totally getting sucked in to the fear. No good ever happens when we act out of fear.  We must act out of love.  
Sometimes that means shutting down my Facebook... or at least not going on it first thing in the morning or right before bed.
And so I'm compiling lists over the next few weeks of what we can all do to make this world a little brighter.  It's called the Do Something Series.
Compliment has always been about more that jewelry and uplifting products. We believe in doing whatever we can to make the world better, often starting small, where we can, by lifting one another. Kind words still matter.  
But so does action.
These lists I'm compiling through the Do Something Series are just as much for me as they are for you.
They are to remind us to take action, because together, I am still hopeful we can make a difference.  I hope you are too.
Here are 10 organizations that support human rights and social justice efforts. Click on the one the stirs your heart and it will bring you to their website where you can learn more about their organization.
I urge you:  choose one.  
Then donate.  Set up a monthly, recurring donation. Even if it is just $5/month.  
Make a choice and take action.  
If you don't like these orgs, choose one in your town doing something you care about. 
Then, leave a comment below about which organization you've committed your dollars to.  
When people see other people taking action, they do it, too. It all helps.  I fully support positive peer pressure!
The SPLC is dedicated to fighting hate and bigotry and to seeking justice for the most vulnerable members of our society. Using litigation, education, and other forms of advocacy, the SPLC works toward the day when the ideals of equal justice and equal opportunity will be a reality. (Teaching Tolerance, their magazine, is an AMAZING resource for students and teachers.)
Greenpeace is the leading independent campaigning organization that uses peaceful protest and creative communication to expose global environmental problems and to promote solutions that are essential to a green and peaceful future.
Refugee Council USA advocates in the U.S. and around the world for the protection, welcome, rights and durable solutions for refugees and other populations who are forcibly displaced and at risk. They seek to build excellence in U.S. refugee resettlement and integration efforts through the collaboration of member agencies.
For almost 100 years, the ACLU has worked to defend and preserve the individual rights and liberties guaranteed by the Constitution and laws of the United States.
Amnesty USA, a division of Amnesty International, is a global movement of people fighting injustice and promoting human rights. They work to protect people wherever justice, freedom, truth and dignity are denied. Currently the world's largest grassroots human rights organization, they investigate and expose abuses, educate and mobilize the public, and help transform societies to create a safer, more just world. They received the Nobel Peace Prize for their life-saving work.
For 70 years, across 190 countries and territories, UNICEF defends the rights of every child. Explore their work to see the programs they create on behalf of children.
Rethinking schools remains firmly committed to equity and to the vision that public education is central to the creation of a humane, caring, multiracial democracy. While writing for a broad audience, Rethinking Schools emphasizes problems facing urban schools, particularly issues of race.
Food First is a "people's think tank" dedicated to ending the injustices that cause hunger and helping communities to take back control of their food systems. They advance our mission through three interrelated work areas: research, education and action. These work areas are designed to promote informed citizen engagement with the institutions and policies that control our food and to integrate local, national and global efforts. Their work both informs and amplifies the voices of social movements fighting for food justice and food sovereignty. 
LiveYourDream.org is an online volunteer and activist network offering flexible action opportunities to improve the lives of women and girls. They provide advocacy and action opportunities to spread awareness about causes such as access to education, empowering girls, and ending violence against women.
Habitat for Humanity works in 1,400 communities across the U.S. and in nearly 70 countries and has helped 6.8 million people achieve strength, stability and independence through safe, decent and affordable shelter.
Teaching for Change provides teachers and parents with the tools to create schools where students learn to read, write and change the world.
Teaching for Change operates from the belief that schools can provide students the skills, knowledge and inspiration to be citizens and architects of a better world — or they can fortify the status quo. By drawing direct connections to real world issues, Teaching for Change encourages teachers and students to question and re-think the world inside and outside their classrooms, build a more equitable, multicultural society, and become active global citizens.