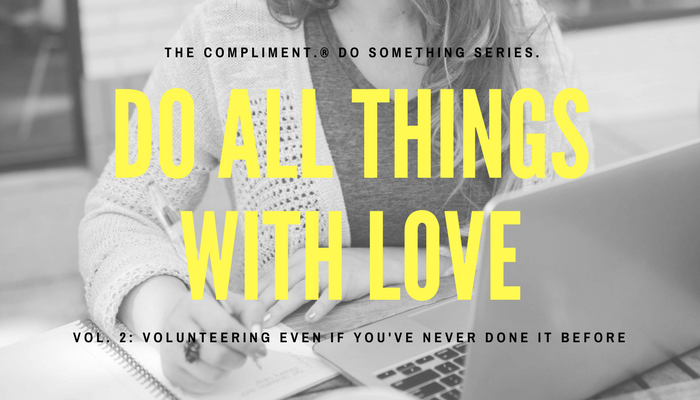 Ninety-nine percent of the people I interact with daily are good-intentioned, well-meaning people.  Sometimes we have different ideas about how the world might best function, but overall, most of the people I know are actually really GOOD humans.
Lately, I've seen many of these good humans post on Facebook how they are looking for more ways to take action to "be the change" they want to see the in world.
So last week, I started the Do Something Series. (You can check out Vol. 1, here.) 
Our second installment of the series is about how to become a volunteer.  I know there are a lot of us out there who love the idea in theory, but really have no idea where to begin.
Today, I'm sharing a few of my favorite local organizations I've had the honor and pleasure of volunteering with in the past + ideas of places you can find in your city to give of your time.
Urban Harvests
Ever see fruit trees in your neighborhood, dropping heavy with fruit that ends up going to waste, no matter how much the homeowners eat/give away?  Harvest Sacramento is an organization that coordinates volunteers with homeowners to harvest their excess fruit off neighborhood trees, and redistributes it to our local food bank.  Nearly every Saturday through March, volunteer crews pick fruit that would normally go to waste and supplies it to our neediest neighbors.  To get involved as a volunteer or a homeowner, click on the link above.
Live outside Sacramento?  Here's what to do:
Contact your local food bank to see if they accept fresh fruits for donation.
Walk your neighborhood and knock on the doors of people who have fruit trees in their yards. Ask if they'd be willing to donate their unpicked fruit to the food bank.
Gather your friends, a few big buckets/boxes, a picker pull and go to work!
Your local public schools grades K-12
Obviously, you can become a school volunteer no matter where you live.  Contact your local elementary, middle, or high school's front office or simply ask any public school teacher how you can help him or her. Schools that need the most help are our Title 1 schools, or the schools that are designated as the highest need in communities of poverty. You could read with the little kids. You can tutor the older ones. You can be a classroom mentor. You can speak at a career day to help kids see what's possible for them. You can make copies or help grade papers one hour a week so that the teacher is free to attend to all the other extraordinary needs of the kids. You will most likely need to get fingerprinted at the district office.  Having been a teacher for so long, I can tell you right now that I would have wept tears of joy if I had someone come in to help mentor just out the kindness of their hearts.  EVERY SCHOOL NEEDS MORE ADULTS WHO CARE ON CAMPUS.  As you probably know, my heart beats for an organization called AVID  (Advancement Via Individual Determination).  AVID classrooms aren't certified unless they have tutors and nearly every AVID classroom needs them.  Call your local school district and see if they have AVID at any of their schools to see if there in a need near you.
Homeless Shelters
Founded in 1983, Loaves and Fishes , one of Sacramento's most recognized homeless shelters, demonstrates compassion and concern about the needs of the homeless and the indigent poor.
We recognize the dignity and spiritual destiny of each person, and hope by our attitude of hospitality and love, to nourish not only the physical needs of those who come to Loaves & Fishes, but also their spiritual need for love, acceptance, respect, and friendship.
We serve each person with the belief that "as often as you did it for one of my least brothers and sisters, you did it for me." (Matthew 25:40)
 Live outside Sacramento?
Find your local homeless shelter by clicking the link, below. http://www.homelessshelterdirectory.org/
Women's Resource Organizations
WEAVE is the primary provider of crisis intervention services for survivors of domestic violence and sexual assault in Sacramento County.  Through a multi-disciplinary effort with Sacramento County, law enforcement, the Commercially Sexually Exploited Children Court, Child Protective Services, and the District Attorney's Office, WEAVE also provides 24/7 response, outreach and services for victims of sex trafficking.
It is WEAVE's mission to build a community that does not tolerate domestic violence and sexual assault and provides survivors with the support they need to be safe and thrive. WEAVE's vision is a community free of violence and abuse.
Live outside Sacramento? 
Find an organization for women escaping domestic violence by clicking here: https://www.domesticshelters.org/
Do you already volunteer?  Please leave a comment and share with us your favorite organizations, below.  It will help all of us get more ideas of how else we might be able to take action, supporting the organizations whose missions most align with our values.