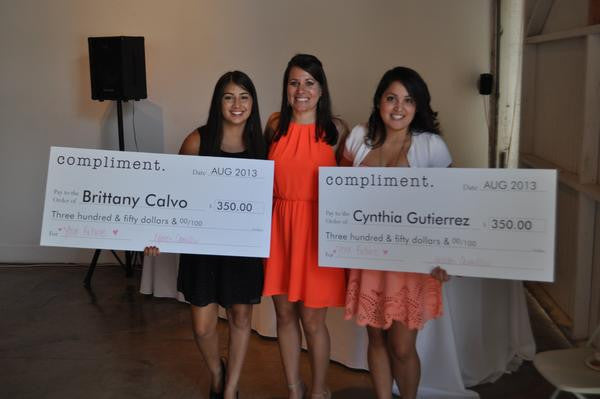 There's something about Back to School that I've always loved.  New school supplies top the list.  But it's also the feeling of a new beginning, a clean slate, a new adventure with new people to meet.  This is the first fall I'm not going back to school.  Ever.  In my life.  When I finished college, I went back to school to get my teaching credential, then taught, then enrolled in grad school, then continued to teach. That's a lot of first days.

So when the first day of school came and went this year, and I wasn't a part of it all, it was different.    Not bad different.  Just different.  Interestingly (though unintentionally) I had planned my 2nd Annual Compliment Scholarship Luncheon for the same week as my former colleagues and students were going back.  Maybe the experience of back-to-school for me was not what I'm used to, but the feeling of new beginnings was ever-present.
If you've been following Compliment in this newsletter or via any of our social medias, you'll know that last week was a big, BIG week for us.  I was abundantly blessed to award Brittany Calvo and Cynthia Gutierrez, two sweet, tenacious, determined young women, $350 each to help them on their college journeys.  

I am very passionate in my belief that no student should be denied the opportunity to better herself through getting an education just because she can't afford it.  There is a distinct divide in the kids who have the opportunity to college if they want to and the ones who don't get a choice.

I've spent pretty much my entire adult life trying to do my part to close that divide, advocating for students who have the potential and the desire to learn but have no idea how--not only how to navigate a convoluted system, but also (and more importantly) how to break out of the very firm grasp of dependency cycles.  These kids are "underrepresented" in the educational system.

Poverty, abuse, addiction--these are generational plagues that are practically impossible to free yourself from without extraordinary will and an education to back you up. Education is the leveler of playing fields.  Education is the key to maintaining our democracy. So I promote it.  A lot.

In my decade as a high school teacher, I've seen hundreds of students decide they wanted something different than how they were raised as they entered into adulthood. Of course, some students have to work harder than others.  Some have had to learn how to study on buses, pass exams after caring all night for sick siblings,  find time to do homework after a full night waiting tables to help their families pay rent, print their papers at the public library, and STILL make the honor roll.  Some have had to work harder than their more privileged counterparts, but have accepted their lot with grace and zero resentment.  They know that success tastes much sweeter when you've toiled for it.
These underdogs have captured my heart and my time and my energy and I've been made a better person for it.  I get emails, calls, texts, Facebook messages, Instagrams, Tweets, etc. EVERY SINGLE DAY from a kid who came from little but who is now a successful adult making this world a better place to be.  

These beautiful human beings I've been fortunate enough to see grow up before my eyes are my inspiration and why I do what I do at Compliment-- help others notice the beauty of the people around them, help honor them with a gift and a heartfelt sentiment, and then give part of those proceeds to girls like Brittany and Cynthia.

Without sharing too many personal details of these girls' stories, I will tell you this:
Both girls are the first in their families to go to college.
Both girls have overcome INCREDIBLE odds to be able to go to college to try and make better lives for themselves.
Both girls are determined go-getters, but also sweet and kind.
Both girls recognize and are grateful for their support systems that they've established around them in and outside of their family units.
Both girls believe their education is what will make them contributors--not drains-- to their communities.
They both also deserved to be celebrated by their teachers, counselors and the community members.  Fun fact (and one that makes me believe in the beauty of the universe) both Brittany and Cynthia's AVID teachers were my master teachers back when I was getting my credential.  Full circle.  I love that stuff.

Here are some more shots of the day.
Special thanks to Roshaun Davis of Unseen Heroes for these photos.  You can see more of his work at The Creative and The Planner.  Also, thank you to my the beautiful judges who chose Brittany and Cynthia to win the awards out of a very talented applicant pool.  You can meet them here.

I am so eternally grateful for everyone who made this day possible--but especially to all of you who have followed Compliment these past couple of years through our ups and downs and ups again--through our changes and our new beginnings.  This was one of the happiest days of my life and truly a dream realized.  I cannot wait until next year when my hope is to increase the awards through more community involvement.  As my business grows, so will these gifts.  Thank you for being a part of this journey with me.

It would mean so much to have your continued support. If this post inspires you for any reason, pass it along to a friend, post it on Facebook, tweet about it, tell your tribe.  Word of mouth about Compliment is the best compliment we could hope for. :)

Have a wonderful week.

Melissa xoxo
PS-  If you haven't seen it yet, check out our Process Video, produced by the lovely people at Unseen Heroes.  It was so fun!
The Process: Compliment from Unseen Heroes on Vimeo.