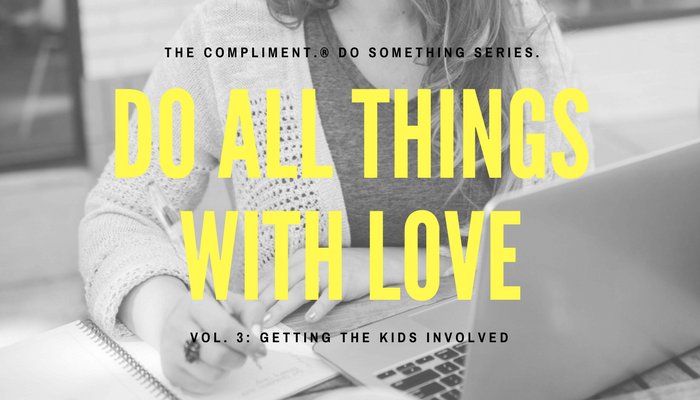 The most powerful thing we can do as a society is teach our children how to be compassionate, kind, and tolerant advocates for themselves, each other, and our planet.
Kids can make a difference, and we know that they are always learning from us. 
Encourage their critical thinking skills and help them use their voice to do more good in the world. 
Here are 5 things you can do to raise smart, kind, engaged citizens:
1. Host a party that gives back and talk about why you're doing it.

 
One of my favorite companies is called Artware for Good.  The concept is simple and brilliant: you gather your friends and family together (ahem.. kids' birthday parties!) and each party-goer is given art supplies that will eventually be turned into a tile.  Each tile from the party either is donated to a charity partner of Artware for Good, or a charity of your choosing.  Tiles are combined to make art wall mosaics, tiled tables, and more.  You can learn more about this awesome company and how they are bringing communities around the world together through art, by clicking here.  
2. Intentionally choose books to read to/with your kids that promote social justice and tolerance of all people.
 Here are my current favorites:
Good Night Stories for Rebel Girls: 100 Tales of Extraordinary Women   
written by Elena Favilli and Francesca Cahvallo
written by Laurel Nakai Illustrated by Abi Reid
But, don't just buy the books.  You have to talk about them with the kids. 
This will help them build literacy and critical thinking skills.  You can do this by:
From Children's Books and Reading
3. Play cooperative games together. 
What are cooperative games?  Unlike traditional games, cooperative games organically create community among the players. Kids learn to work together as a team in respectful and compassionate ways. They learn to share, make decisions together and trust one another, all while working towards a common purpose – defeating the game – while also having fun!
Cooperative games allow kids to experience inclusive play situations that build self-esteem and help shape emotional development. Kids get to play leader, follower and even peacemaker – sometimes all in the course of a single game. This kind of play helps kids build valuable life skills today so they can play well in the greater world tomorrow.  You can learn more about cooperative play from Peaceable Kingdom. 
4.  Help build emotional intelligence by using the RULER method. 
Developed by the Yale Center for Emotional Intelligence, the RULER method helps kids recognize their emotions and respond to them mindfully. Can you imagine an entire generation raised with an increased emotional intelligence?  I guarantee we all know some adults who can benefit from this method, as well! 
5. Lead by example and demonstrate volunteerism WITH the littles.
Teach your young ones how to volunteer with causes that are important to them. They do as we do, and so getting them involved young will help them develop into giving adults who are compassionate and kind.  This list provides 40 different ideas for volunteering with toddlers through teens.
What other ideas do you have to help our next generation grow into caring adults?  Share your ideas in the comments below!
***
Now through the weekend, use the code PERSIST
when you buy two or more mugs and receive free shipping!