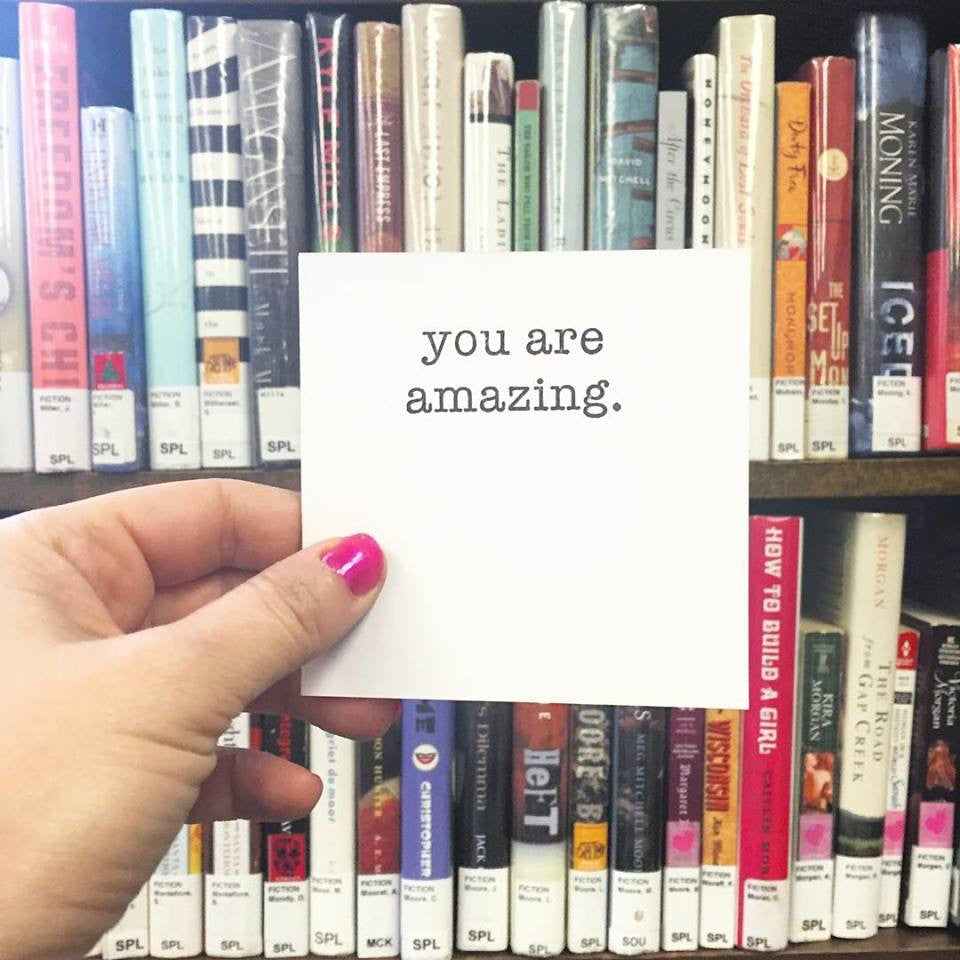 This morning I got an email from a woman named Laura who lives in Alaska, whom I've never met in person. 

She wrote, 
"I just wanted to let you know that I received my order yesterday and I LOVE my rings! I'm wearing the black, multi-stone one today and it's just perfect! I will definitely be back to your shop to purchase gifts for friends and probably some other pieces for myself. I love that your business stands for something!  Thanks also for your quick service!"
I'll share with you what I wrote back in a sec, but before I do, I want you to know that if I had received this several months ago, I may have responded differently. This got me thinking...
You see, for many of us, it's way easier to give a compliment, than to receive one.  I know I totally used to fall into this category.  I've always been able to lavish compliments upon the people around me: family, friends, my students, my co-workers, even the impatient and tired barista up the street.  But for some reason, I used to find it way easier to deflect a compliment directed toward me. Instead of a simple THANK YOU, I would say something like, "Oh, it was nothing." or "Hey, no problem."  
Is this something you find yourself doing, too? 

YOU ARE NOT ALONE!
But, seriously.  What the heck?  Why do we women have such a hard time accepting compliments?
Running my own business has taught me numerous things, but one lesson I'm getting better at understanding is this:


I am worthy of praise!


I work really hard on Compliment, and in turn, I know that I am a conduit to bring joy into other women's lives.  If a customer emails me or posts on the Compliment Facebook page about just how much she loved receiving her well-made, personalized gift, my inclination now is to say something along the lines of what I sent back to Laura in Alaska:

"Thanks so much for your kind words!  They mean a lot!  I really work hard at making sure each piece of jewelry I send out is crafted with care, just like I were sending it to my best friend.  I really appreciate you noticing the "why" of the business and that it stands for something!" 
A compliment, after all, shows someone appreciates us, recognizes our gifts or talents, or really "sees" us.  And isn't that what we all want?  To be truly seen, to be loved, and to belong?  


You are worthy of praise!

If someone wants to pass on the "feel-goodery," as I say, why shouldn't we accept that?  When you really think about it, it's when we feel down on ourselves that we deflect praise.  And that's a bunch of garbage, if you ask me.  Be like a sponge for praise.  Soak it in.  Listen for it and then hold on to it.  Feel proud of who you are and what you offer to this world!  
So here's my challenge to you:  the next time someone tells you that you look great in that dress, DON'T say, "Ugh, this old thing?" or "You don't think it makes my butt look huge?"  You simply say, "Thank you!  That is so nice of you to notice!"  

Soak it in, sister.  You're a total hottie.  Accept it!  You deserve some feel-goodery!
Wanna take it a step further?

Think of something you love about YOU, and Compliment yourself! 

(Warning: You might start to notice a shift in thinking, which might lead to happiness.  Just sayin'.)
I'd love to hear how this little challenge goes!  Please stay in touch this week by responding to this email, commenting on Compliment's Facebook page, or tweeting me! Do you know someone who could benefit from this message?  Pass it on to a lady you love!

And if you wanna get SERIOUS with this challenge, join us and our great friends over at Taim Boutique in Laguna Beach, CA for our weekly #GiveSomeoneaCompliment Twitter Party Tuesdays at 7:30 PDT.

All you have to do is sign on, lavish compliments, and hashtag #givesomeoneacompliment! Check out this past week's love fest below! Join us in the feel good revolution!




Have a great week soaking in all the love.  If there's a week we really need it, it's this one.  To our friends in Boston, we stand with you in spirit and send you love and support.  In the midst of violence and pain, it's easy to let fear overpower love.  

However, I read an awesome article in the Huffington Post today that really made me reframe my thoughts on just how strong the human spirit really is.  May we focus on all the good that's still plentiful in the world and not give in to the fear.  I have lots to say on this subject, but I'll write a separate post for that later.  In the meantime, I highly recommend you read the article, "If You Are Losing Faith In Human Nature, Go Out and Watch A Marathon."

With love,
Melissa
We were recently featured on Good Day Sacramento! Watch the video here.