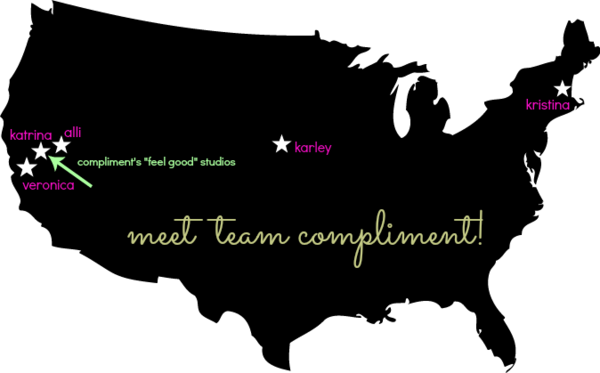 In the last six months, Compliment has grown tremendously!
THANK YOU!
It's been super exciting seeing this dream take shape!  We have been able to be the conduit of love for more and more people as the word continues to spread about this "Feel Good Movement" we are creating.  So I started looking to add more talent to the crew! I conducted a nationwide search for the best and the brightest!  And I have to say, I found them.  
Team Compliment now spans four states and three times zones, which has made us all pretty awesome at creating community with one another online!
And because being a teacher will always be who I am (whether or not I'm in the classroom), I am loving the opportunity to share the stuff I've learned along the way with these young women. Together, we are able to reach more people, share more love, and do more good.  
One of Compliment's core values is to help develop young women into confident leaders in their communities. We do this through the kind words of affirmation that come with each of our products, through our scholarship program, and now through our internship program.
So without further ado....
Meet Alli W. from Nevada
Compliment Marketing Strategy Intern
"Hi!  I'm Alli. I am a storyteller. I love to create and I have a wild imagination. I'm a 22-year-old graduate of the University of Nevada, Reno, where I received my Bachelor of Arts degree in Strategic Communications just last year. I have lived in Reno my whole life, and I love the small town, big city atmosphere. We are the Biggest Little City in the World, after all! I like spending my free time catching up with friends, finding new restaurants to try out, and in the winter months you can catch me on the slopes of Lake Tahoe snowboarding. I love long road trips and visiting new places, and I hope to be able to travel more in the near future!"
Meet Veronica L. from California
Compliment Editorial Content Intern
"I'm Veronica.  I am a 20-year-old student studying English and Communication major at Saint Mary's College of California (Go Gaels!). You can probably find me running, eating, reading, or watching yet another TV show I've gotten myself into. But my true passion has always been writing, and I hope someday I can fulfill my dream of getting a book published. In general, I'm also a pretty big nerd, especially when it comes to Harry Potter. Those books have been a huge part of my life since I was 7. Anything Marvel or Game of Thrones-related will get me going as well. Being outdoors is my preference, whether I'm being active or enjoying nature or going on adventures, it's all fun. I can't get through a day without music as my motivation, and I long to attend more concerts or shows in the future. Speaking of the future, I desperately hope to study abroad or travel somewhere new when the time is right. The rest of the world is calling!" (*Stay tuned for some of Veronica's rad guest posts to the blog!)
Meet Kristina L. from Connecticut
Compliment Web + Digital Design Intern
"Since 2007 I've been working as a corporate accountant, and it wasn't until a casual hobby of glass painting picked up two Aprils ago that I had the idea of using glass as a way of bringing art to everyday life.  So exactly one year later I took a huge leap of faith and formed my own company, Painted by the Shore.  I am incredibly proud of the 12 months that followed and now as I'm entering my second year in business. The future couldn't be more exciting.  It was those first two years in the art field that led to a passion for design- be it blog, web or graphic I love presenting the digital world in a way that is aesthetically pleasing.  And meeting my husband in a graphic design class sophomore year of high school makes it all the more meaningful! During the day I'm an accountant, early mornings and evenings I paint, weekends I'm a web design guru at Compliment. I participate in art events around Connecticut.  Though I wear many hats, and things are always busy, I wouldn't have it any other way.  These fun filled days are what's leading me down the path to my art, craft and design filled dreams.  I think that life is all about learning what you love and then surrounding yourself in it.  That's my mantra and I'm starting to finally live it."
Meet Karley C. from Nebraska
Compliment Editorial Content Intern
"Hi!  I'm Karley! I am a passion-driven twenty-three year old Journalism student at the University of Nebraska Lincoln, Go Big Red! I have a wonderful two-year-old son, Kalvin, who is bursting with energy, which keeps me very busy and full of joy.  We love to be outside and also adore our craft time along with smoothies.  He has opened my eyes to a number of new experiences and possibilities and has helped me discover who I truly am.  I got married last July to my husband, Makani, which went by way too fast but was very exciting and fun.  I find great joy in running, thanks to my momma, and practicing yoga.  I'm very keen on being outdoors and going on photo adventures with my sister as well.  I aspire to travel the world with my family and see all the cultures and beauty this world encompasses.  For now we are going where the wind takes us, and enjoying the journey along the way!"   (*Stay tuned for some of Karley's rad guest posts to the blog!)
Meet Katrina F. from California
Compliment Operations Intern
"I am a 19 year old college student, currently interested in studying psychology. I reside in Sacramento, California and absolutely love it here. I like to stay busy and I am a firm believer in hustlin' for what you want and think you deserve. I love watching and talking about sports!  I especially love basketball! I was rooting hard for my Los Angeles Clippers this season! I want to travel the world someday. I thrive on positivity and believe confidence is key in most situations.  I like to read, and stay organized.  I've worked for the park and rec district as a lifeguard for the past four summers. I've recently taken up meditation and have seen pretty amazing results."
Please help me welcome these lovely ladies to the Compliment family!
Have you been following the Compliment Soul Care Series?
Check out my recent interview with Stephanie Birch (@stephynow).